App for gamers to boost FPS and performance in games.
This app will change the ways of gaming.
Full feedback list can found here: Discord
from 120 fps in Valorant to about 150 constant without drops ♥️
I recommend it, I had 130, now I have 240 on the i5 10600kf gtx 1650 equipment
cs 2 optimization with YT + apk before 120-150 fps with drops to 40 PO 160-240 with smaller drops I am pleasantly surprised and I recommend the app, it gives a lot + optimization with YT is a good combo
Available payment methods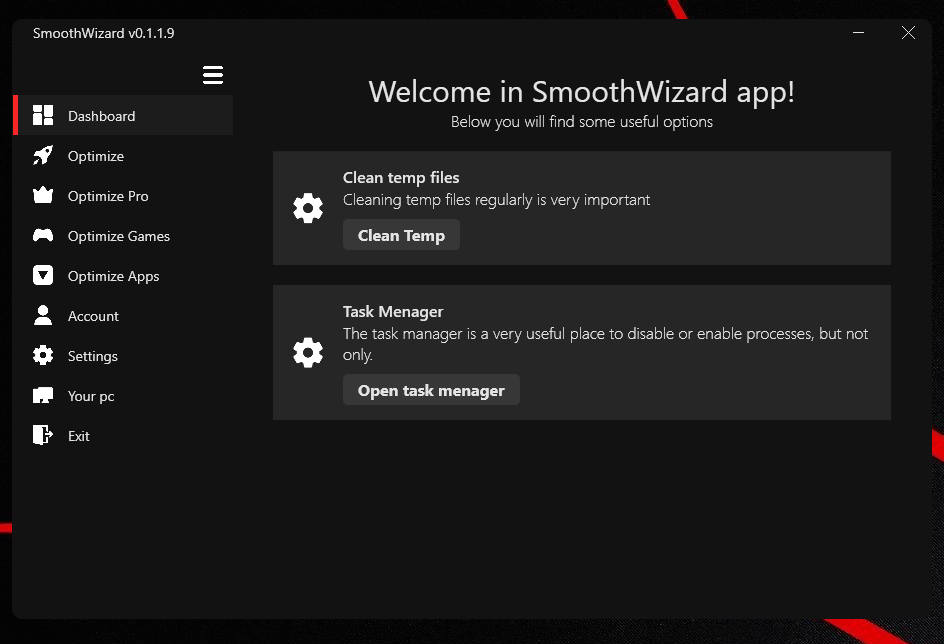 Best FPS Boosting App on the Internet
Are you tired of experiencing input lag and choppy frame rates while gaming? Say Your farewells to those frustrating moments with SmoothWizard, the ultimate FPS boosting app designed to elevate your gaming experience to new heights. Whether you are a casual gamer or a competitive eSports enthusiast, SmoothWizard is your secret weapon for achieving butter-smooth gameplay and maximizing your PC's potential.
Optimize Services and Processes Instantly!
Simplicity Meets Power: Don't let technicalities hold you back. SmoothWizard's one-click feature is designed for everyone, producing tangible results without confusion.
Instant Impact: Experience immediate improvements in speed and responsiveness with just one click, saving you time and frustration.
Stay Up-to-Date: Regular updates keep your optimization aligned with the latest advancements, ensuring continuous top-tier performance.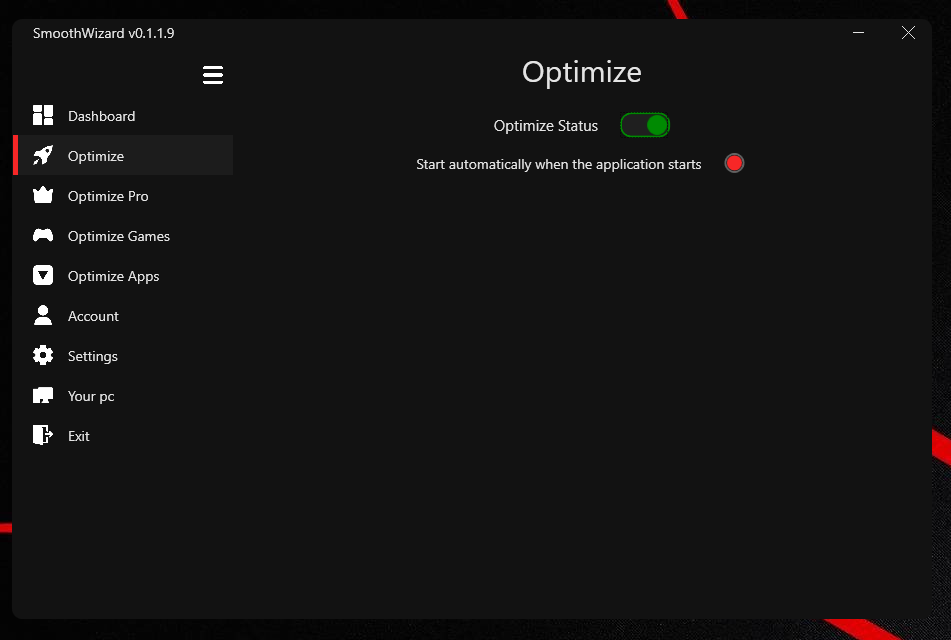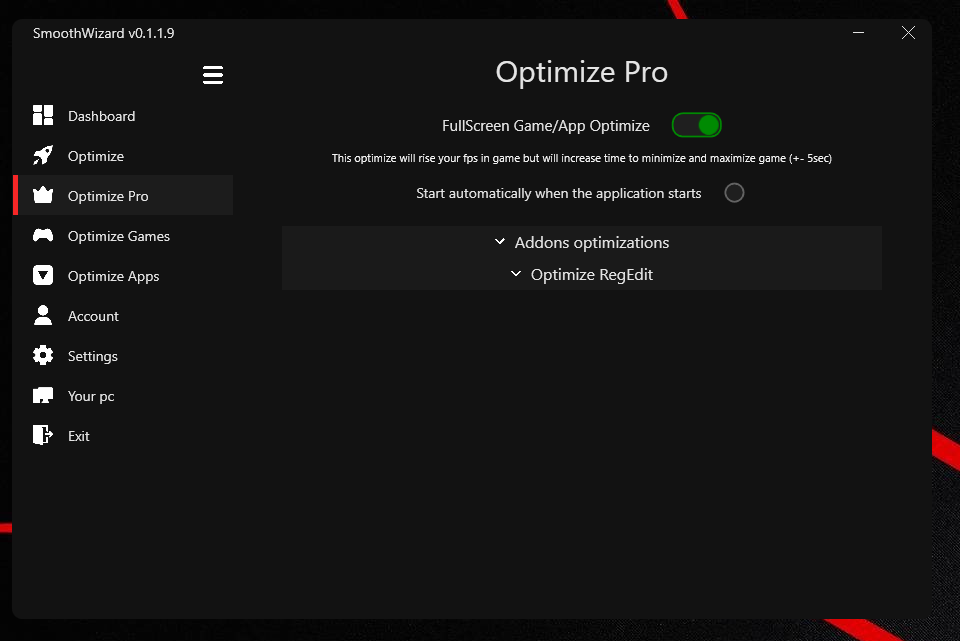 Unleash the true potential of your games with FullScreen Optimizer Pro – the ultimate solution for achieving peak performance in every gaming session. Say goodbye to distractions, lags and glitches and immerse Yourself in flawless gameplay like never before.
Unlock the true potential of your Windows operating system with Addon Optimization Pro – the ultimate solution for streamlining your operating system and maximizing its efficiency. Bid farewell to clutter, sluggishness and unnecessary background processes and welcome a faster, smoother and more responsive computing experience.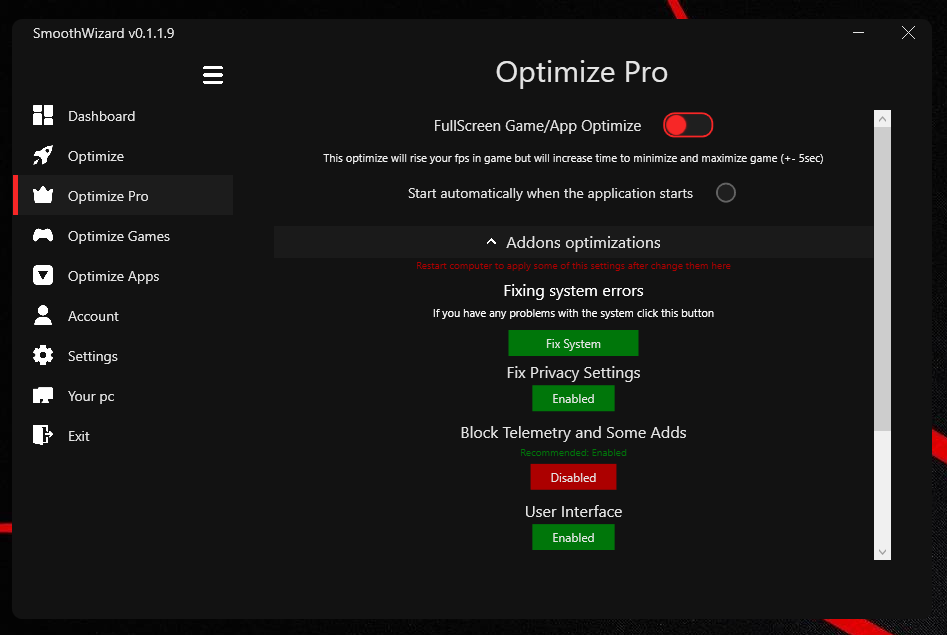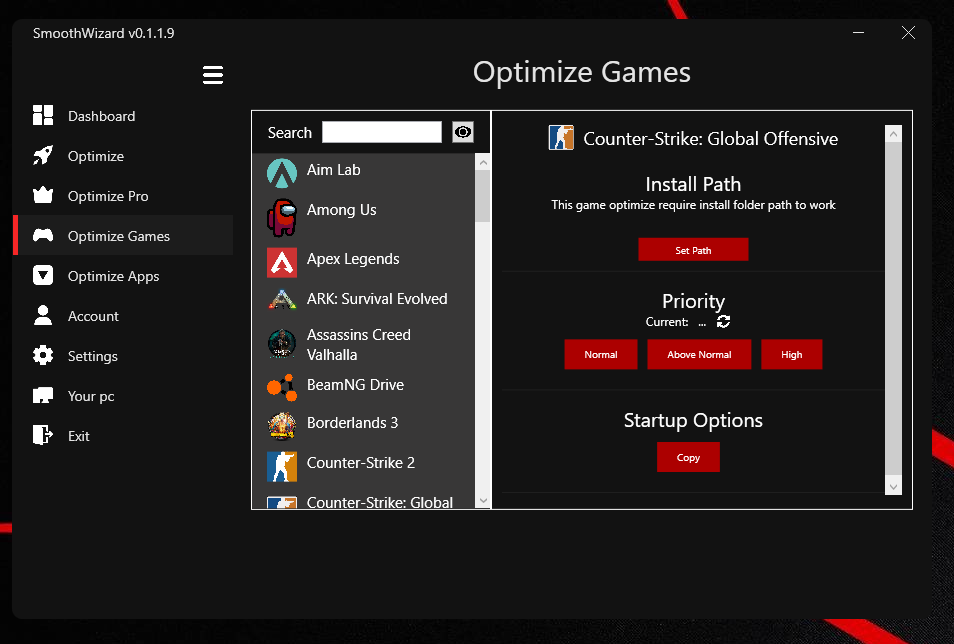 Game optimizer with a single click
SmoothWizard's Built-In Game Config Optimizer. Imagine a tool that not only boosts your FPS but also fine-tunes your in-game settings for optimal performance. With this cutting-edge feature, you can say goodbye to the hassle of manually tweaking configurations and hello to seamless, immersive gameplay like never before.